Community Presbyterian Church of Cambria
1874-1967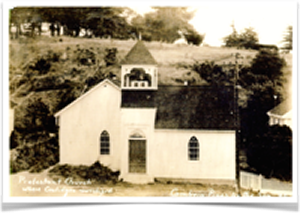 Henry Williams and Merritt Trace and his son, Verne, built this church for the local Presbyterian community in 1874. The bell tower and new entrance were added in 1906. The church served Presbyterians for 91 years, with visiting governors and state legislators occasionally attending services. President and Mrs. Calvin Coolidge, guests of William Randolph Hearst, attended Sunday service March 2, 1930.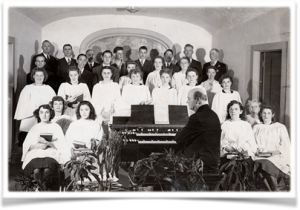 In 1967 a new Presbyterian Church was built on Yorkshire Drive and the church was sold.
First Baptist Church of Cambria
1967-1987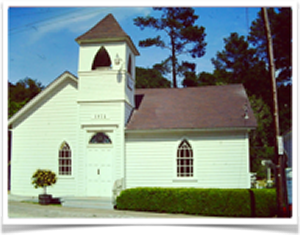 The First Baptist Church of Cambria purchased the church building in 1967. After 20 years, a new Baptist Church was built on Green Street and they moved in 1987. The old Presbyterian building was sold to Kenneth and Valerie Kilpatrick, San Diego residents.
Cambria Vineyard Church
1987-1997
The Cambria Vineyard Church leased the historical church building in 1987 and remained there until 1997. They met at the Cambria Veterans Hall until the new Vineyard Church was built on Main Street.
In 1995 Ann Wyatt purchased the old Presbyterian building. She continued to lease the church to the Vineyard until 1997.
Cambria Christian Center
1998-2001
The Assemblies of God Church, known as the Cambria Christian Center, leased the Bridge Street church building in 1998 and left Cambria in 2001.
Living Waters Christian Fellowship
2001-Present
In 2001, Living Waters Christian Fellowship moved to the historical church building where we are today.